What's Caught Our Eye in University Marketing & Recruitment in May

What's Caught Our Eye in University Marketing & Recruitment in May
The end of the 2020-21 academic year is now in sight. With just a few months to go, we know you will be making a last push for September/October recruitment*, whilst delivering activity for 2021-22 and beyond. Whether you are looking for some inspiration or a bit of time out, here are the five postgraduate marketing campaigns and initiatives that got our attention this month.
This is something a bit different from the School of Nursing & Midwifery at TCD. A time saving solution for people seeking specific details for particular courses. The Virtual Postgraduate Roadshow presents all the information required, including an application guide and online tutorial, checklist, and course contacts – all in one place. You would expect this to have a great impact on enquiry to applicant conversion.
This postgraduate event stood out for us for several reasons. One, it's institute and research specific which you don't often see. The myth-busting session also offers a different way to reassure prospective students, worried about stepping up to postgrad whilst the format as a whole understands that prospective students need help identifying or fine-tuning their topic. Finally, the opportunity to have a one-to-one session with the Institute's Associate Director is a nice personal touch that could make all the difference when it comes to conversion. If all that fails, there's a pizza lunch.
A student's thesis defence is usually the culmination of a postgraduate degree and the hallmark of what it means to study at Masters or PhD level. The University of West Fjords has turned the challenges of the pandemic into an opportunity by inviting the public to witness these examinations online. A great way to celebrate their students' achievements and showcase their departments' research specialisms and study opportunities.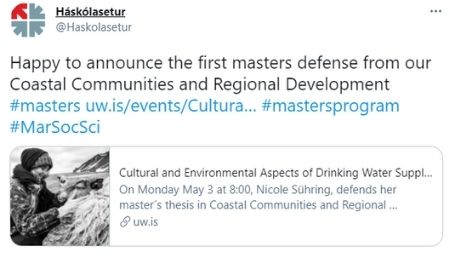 Progression is an important part of many university's postgraduate recruitment strategies, but that doesn't mean it's a simple process. What we liked about Manchester Metropolitan University's campaign is the dedicated web hub with videos from postgraduate students who had also studied their undergrad at MMU. This is a simple and honest way of allowing current Masters students to serve as highly relatable ambassadors.
This offer from Dublin City University got our attention. In addition to their 10% alumni discount, the Business School also offers a similar discount to every external full-time student (domestic and EU) who achieved first class honours in their degree. You don't often see such a discount for external students as it's more commonly offered to continuing students.
We see hundreds of postgraduate marketing campaigns and continually gather data from how our visitors and subscribers engage with our websites and emails so can offer advice and support with your campaigns. Please contact your Account Manager or email [email protected] with any questions or support you're looking for and we'll be happy to help.
*To support your September/October 2021 recruitment we will be launching our 'Last minute courses' hub on our FindAMasters website very soon. So, keep an eye out for an email from us on how you can add your courses and benefit from prospective postgrad visitors looking for an immediate start.