Taking the Pulse of Postgraduate Recruitment in 2021 (and Beyond)

Taking the Pulse of Postgraduate Recruitment in 2021 (and Beyond)
---
Attitudes to postgraduate study are changing, but traditional survey reports can't provide all the answers. Our Head of Content, Dr Mark Bennett, explains why and previews the new PGT Pulse tool, powered by FindAMasters.
---
Over the past couple of weeks, the Timehop app on my phone has been jauntily repackaging a series of tweets from this time last year, in which I was variously irritated, worried, scared or just plain bemused. There was also one in which I was disproportionately proud of getting through a day of home-working plus 'home-schooling' and still being able to see the floor. Reader, this did not last.
Sticking with the bemusement though: I'm not ashamed to say that some of it was professional. The question for so many of us was: "what does the pandemic mean for postgraduate study?" And the only apparent answer was: "well, it did alright after the 2008 recession. . .".
You may, like me, have found this less than entirely reassuring. After all, a pandemic isn't a recession and the big questions it raised for provision, quality and even student safety, simply weren't in play in 2008.
We all know where that uncertainty left us.
"Get access to the results from our exclusive survey. . ."
I'm sure you received more than a few emails with headlines like that in 2020, all promising exclusive data and insights into prospective student intentions and attitudes.
A few of them were from us. It's not for me to say if they were better than the rest, though I will note that we kept the focus firmly on PG, distinguished properly between PGT and PGR, and delivered the results in my wonderful kitchen, with warnings about noisy Siamese cats. Which simply isn't true of all the others.
I'm proud of the work we did to ascertain student attitudes and understand what they actually meant for postgraduate recruitment last year. The insights were (mostly) encouraging, and the opportunity to discuss challenges with colleagues across the sector was a source of collegiality and encouragement.
You can go back and look at the results now, if you like. But I'm not actually sure you should.
The problem with surveys, actually. . .
All survey data eventually becomes a hostage to fortune. This happens especially quickly during an ongoing pandemic.
It was comforting to know that around 50% of people in the recruitment pipeline remained completely committed to PGT study in 2020-21 (with less than 10% planning to abandon). Or that almost two-thirds of undergraduates were more likely to consider a Masters last September.
But there's no reason to just assume that these statistics will hold up for 2021-22.
Let's hope for a best-case scenario in which vaccination progress enables at least a partial emergence from pandemic restrictions by September, with the prospect of a return to largescale on-campus teaching. In that case, we're still looking at a recruitment landscape that's totally different from 2020-21 and totally different from 2019-20.
Hypothetically, it could see a swing back towards graduate recruitment for third-year students. Or it might boost PGT enrolments, as increased curiosity about Masters study meets confidence in provision. It might even mean a surge in interest for certain campus-dependent subjects, driven by pent-up demand (more on that shortly).
Either way, data from a year ago won't tell us.
More recent data might (more on that in a moment) but, well, September's almost six months away. We hope 'things' don't happen, but they could.
What we really need is a way to track and compare attitudes over time and measure them at any one time. More on that now.
Introducing FindAMasters Pulse
So, last June, 48% of people were very confident in their postgraduate study plans. This week the figure is 54%.
I don't know what it will be next week, but I'll be able to tell you, if you ask me.
This data is powered by a new tool we've been developing, the working title for which is currently FindAMasters Pulse. Unlike traditional surveys, Pulse is integrated directly into FindAMasters, constantly 'straw polling' our vast global audience of prospective students to maintain a picture of interest in and attitudes towards postgraduate study.
There are lots of advantages to this:
Ongoing measurement – We aren't restricted to snapshot surveys. Instead, we can measure changes and spot trends over time, with the impact of news stories and events showing up immediately.
Massive datasets – We typically gather around 1,000 responses to analyse for our PGT surveys. That's not bad, but it's dwarfed by the 15,000+ responses we've collected through Pulse since January. And yes, they're all prospective PGT.
Integration with FindAMasters – Because this data is gathered within our website, we can establish additional information such as countries, universities, subjects or even specific programmes of interest – and segment accordingly.
Building a picture of the PGT pipeline – As well as sentiment analysis, Pulse also collects data on when students intend to study and how long they've been considering doing so. The eventual result will be a map of exactly when different groups of people begin searching for PGT courses at different entry points.
Hopefully you find this as interesting and exciting as I do. But I'm guessing you'd like to see some of the results.
Attitudes to postgraduate study in March 2021
A key question for Pulse is how confident different students feel about postgraduate study at a given point. It's also much easier to analyse this confidence over time: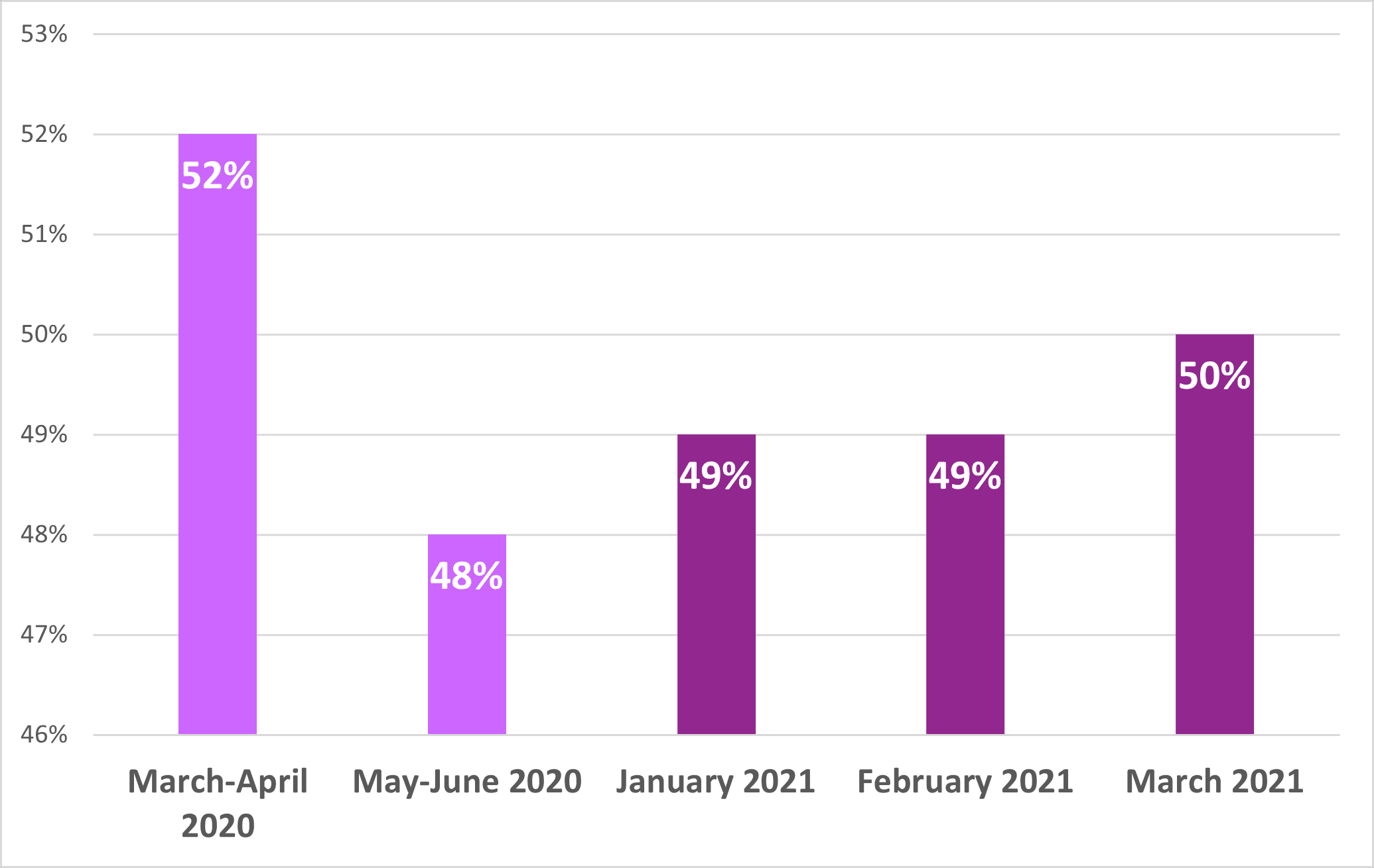 Overall confidence in PGT study
These are the proportions of people who say they're 'very confident' (point 5 on a Likert scale) about postgraduate study, with our 2020 survey data as a point of comparison.
We're only playing with a range of a few % points here, but the trend is good – and plausible. Interest dipped during the 'first wave' of the pandemic and it's continued to recover since. More importantly, it's done so in March this year, presumably following the success of vaccine rollouts and the improved prospects for on-campus study.
Those are some of the highlights from (a lot of) data collected during January to March this year.
I've put together a short report gathering up a few other interesting details from the January to March data, including information on how attitudes vary for different groups of students and subject areas and exactly when prospective postgraduates are looking to enrol at the moment.
But the unique feature of Pulse is that this research and insight gathering is ongoing. Our data will evolve in parallel with the attitudes it measures and I'm looking forward to sharing the findings in a new monthly newsletter specifically for postgraduate marketing and recruitment professionals. And yes, we'll be exanding the coverage to include PGR too.
All you need to do to get the January-March report and the Pulse newsletter is. . . let us know you want them.
Why all of this matters right now
Pulse isn't just about responding to Covid.
The truth is, there hasn't been an 'old normal' in PGT and PGR for some time. The past five years have seen sweeping changes in student finance, visa options and funding eligibility in the UK alone. Our aim is to make it much easier to spot the impact of future events and to track their effects for different audiences.
In the longer term, this data has the potential to form a much better picture of typical recruitment pipelines, revealing when interest is highest for different subjects and entry points. That simply doesn't exist for PGT, where audiences are highly diverse and few checkpoints (such as UCAS or UKRI deadlines) exist to shape the cycle.
None of this means the end of existing projects such as our Future PhD Student Survey or our forthcoming Future Masters Student Survey. These will continue to provide in-depth insight into other aspects of students' expectations, attitudes and information needs. The aim will be to combine that rich detail with the ongoing orientation and road mapping provided by Pulse.
In the meantime, if you've got any suggestions, or if you've got a question I might be able to answer with the existing PGT data, you can drop me an email directly, or find me in the usual places.
What else do prospective PG students think?
We'd love to share a few more Pulse findings with you, followed by monthly insight for postgraduate marketing and recruitment.