What's Caught Our Eye in University Marketing & Recruitment in March

What's Caught Our Eye in University Marketing & Recruitment in March
This year is flying by. There is a buzz in the air, spring is here, and we have a roadmap to some form of 'normality'. Hopefully, this means we can start to plan with a bit more certainty. If you are looking for some inspiration, here are the university initiatives and campaigns that caught our eye this month.
This is a fantastic and well-communicated initiative from University of Hull, offering a strong message of support to international students and a bold post-Brexit recruitment initiative.
Most universities tweet reminders of application deadlines. This tweet from SRW Foundation stood out with its alternative headline. Scroll-stopping creative is key for any social channel.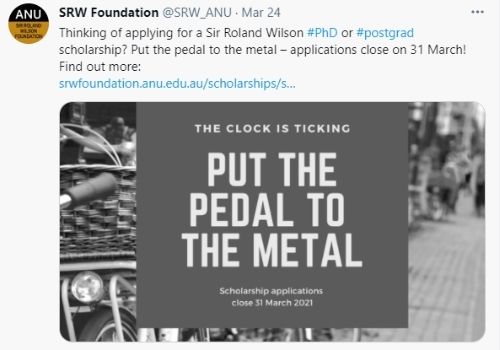 This NFT initiative recognises the challenging jobs market undergraduates may be facing and responds by replacing the traditional virtual open day with an interactive careers Masterclass.
The Sussex Roundtable podcast recently devoted an episode to postgraduate, with current students answering the question: 'What is Masters study like?'. As we know, peer-to-peer engagement is a powerful recruitment tool, and it's interesting to see different platforms being used for this.
This is a great solution from the University of Manchester to enable prospective Masters in Public Health students to 'try before they buy'. While open-access courses are not easy to replicate, the approach provides some food for thought.
We see hundreds of postgraduate marketing campaigns and continually gather data from how our visitors and subscribers engage with our websites and emails so can offer advice and support with your campaigns. Please contact your Account Manager or email [email protected] with any questions or support you're looking for and we'll be happy to help.


The Postgrad Awards return for their third year. Judge and FAU co-founder, Andy Holliday, gives his tips for winning nominations.