Student Mental Health - Why We've Partnered with Student Minds

Student Mental Health - Why We've Partnered with Student Minds
Student mental health is a serious and important issue. There are currently around 2.4 million students at UK universities, and roughly 1 in 3 suffer clinical levels of psychological distress during these formative years.
Student Minds is the UK's student mental health charity. Since 2009, they've been leading change in student mental health across the UK with a wide range of support services and are currently working with more than 100 UK universities.
We're committed to supporting students in their postgraduate study journey, and a huge part of that is helping them to access the information they need to make this commitment, whether that be on funding, choosing a programme, or how to access mental health support.
When the 2020 HEIST Awards decided to 'go virtual' – we realised our usual table favours weren't going to work – so instead we decided to support this amazing charity by asking HEIST attendees to tweet selfies with our golden ticket 'I support Student Minds' to raise awareness (and we pledged to donate £5 for every tweet).
It was a great success, raising £500 for Student Minds, and kick-starting our partnership with them.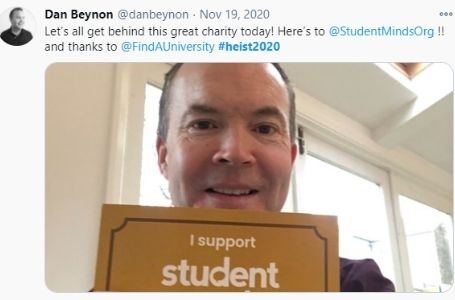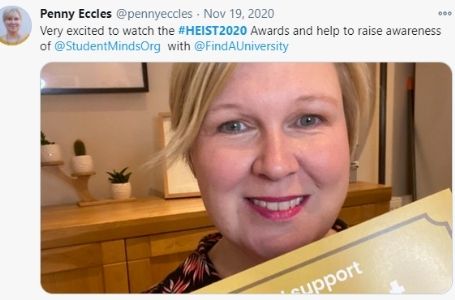 We've not stopped there and have since donated the usual cost of printing and distributing our physical Christmas cards, and published a comprehensive student resource for our FindAMasters and FindAPhD audiences (and please feel free to share these with your students too).
We're looking forward to what the future holds for the partnership, and will keep updates coming via our social channels – so be sure to follow us using the links below.