7 Tips for Creating an Award-winning Subject Level Marketing Campaign

7 Tips for Creating an Award-winning Subject Level Marketing Campaign
---
Fiona Jardine, Marketing Officer at University of Aberdeen, recently presented at our November Marketing Conference webinar and we invited her to share more insights from their successful postgraduate campaign which won a Heist Award last month.
---
As university marketers you'll know that academic departments often have their own individual characters, cultures and values. And the challenge that subject level campaigns present - coming up with new and exciting concepts representative of that distinctive identity, whilst simultaneously remaining true to your main university brand.
Our subject level campaign
In 2019, we launched 'See Law from Different Perspectives'. Presenting our Law School at the forefront of important and developing topical issues, the campaign is based on two sides of a legal argument. It's about taking law out of textbooks and into real life situations.
But was is successful?
We have seen significant improvement in our digital campaign performance (leads, cost per lead etc.), growth of more than 10% in student numbers, and a 329% increase in our Facebook follower numbers. And last month the campaign won a Silver Heist Award in the 'Best Postgraduate Student Recruitment Campaign' category.
So how do you do it? Well, here are our top tips for creating your own school or subject-level campaign.
#1 Allow yourself thinking time
Give yourself time to work out the answers to key questions. What inspires you? What are your values? What do you want to achieve? Who are your audiences? How would a subject level campaign work within the main brand? Is it to be a short-lived campaign or, like Perspectives, a bigger, longer idea?
#2 Engage with colleagues
Your campaign needs a wide range of perceptions – students, academics, support staff, marketing colleagues. Engaging with such a broad group will be challenging, not to mention time consuming, but bear in mind that they are all stakeholders and will each add unique value to the outcome. And don't forget people outside your organisation. They will offer a rich, fresh and unbiased point of view. So, take time to consider who needs to be involved and at what stage. For a campaign like ours, having the involvement and endorsement of subject specialists was crucial.
#3 Encourage creativity – but remember guidelines
Developing a marketing campaign is an opportunity to tap into everyone's creative side – and a process our law colleagues particularly enjoyed. But remember to set parameters. Once you have your concept, you'll need some guidelines around it (visual and verbal). Our campaign stays true to the university's colour palette, our headlines are a maximum of three words, it always respects the main brand guidelines and the University of Aberdeen logo is always front and centre.
#4 Prepare for your journey
Don't underestimate the road you need to travel – it is likely to be long you'll need to be prepared to be flexible and adjust your expectations along the way. No matter how hard you try, some ideas simply may not work, and you may need to draw a line through them. It may be a steep climb, but the reward for us has been the perspective at the top (no pun intended).
Think through the negatives and recognise difficulties for what they are – but don't let them put you off. Embrace them as challenges and don't shy away from trying something new and brave. 'Perspectives' is designed to be a provocative conversation starter. Our 'Frack Off' banner is a good example of this.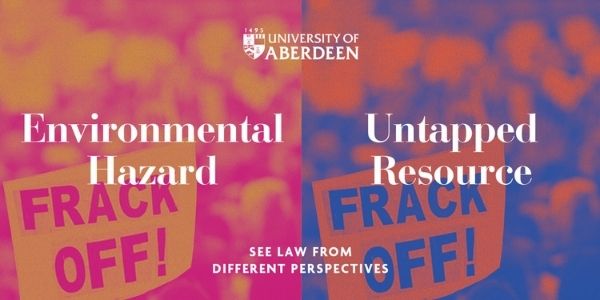 A marketing campaign not just for the marketing team. Because of its close ties to our curriculum, our academics were keen to use 'Perspectives' creatives in their lectures. You need your community to embrace your campaign and become its ambassadors, and to do this it needs to be within their reach. They may just use it in ways we marketers would not have considered!
#7 Stay true to personality
One final tip? Stay true to your School's personality. The Heist Award judges commended our campaign for "capturing the imagination of staff and students". As well as attracting prospective students, our campaign continues to inspire and motivate our internal audience by highlighting their values and embracing their differences. 'See Law from Different Perspectives' closely reflects the content of our curriculum, the ethos of our school, and the character of our academic community.
I'd like to thank my colleagues Ray Addison, Sarah Duncan and Professor Greg Gordon who have contributed to the compilation of this blog.
If you'd like help with extending the reach of your campaign to our FindAMasters and FindAPhD website visitors and email subscribers, please get in touch with your Account Manager, email [email protected] or call +44 (0)114 268 4940.